"Develop a passion for learning.

If you do, you will never cease to grow."
Infinite Dreams Fulfilled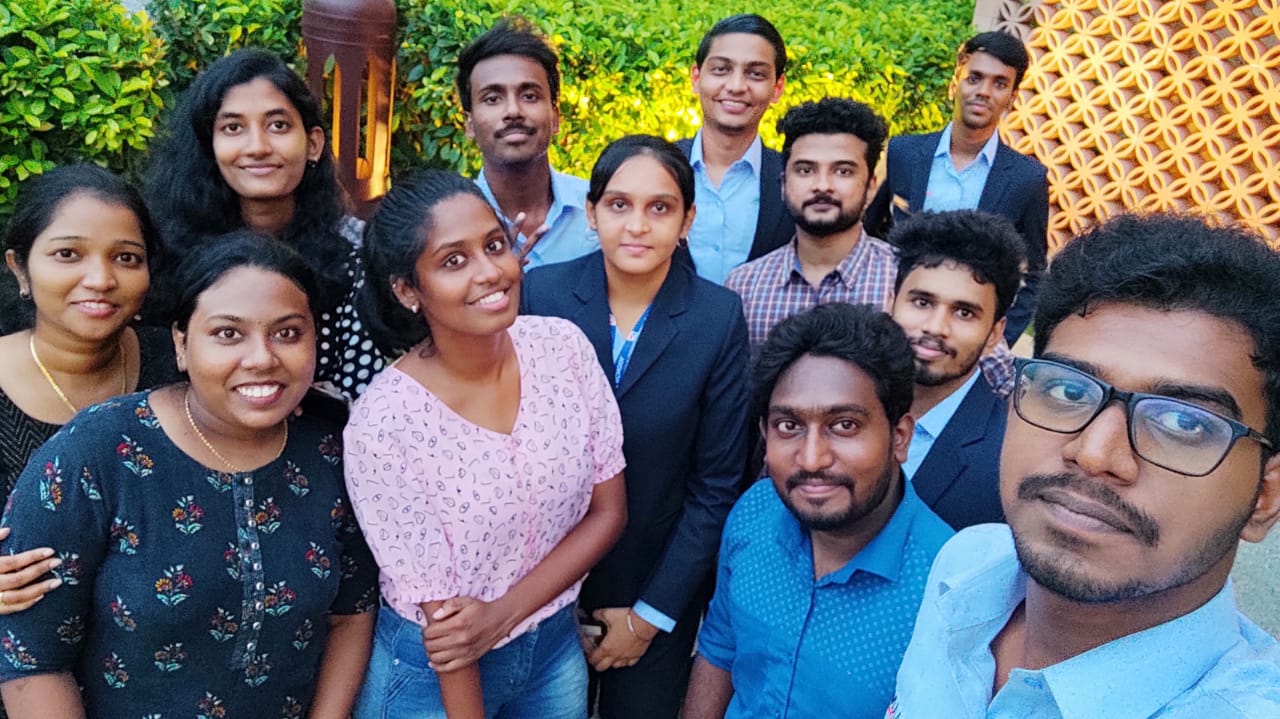 Life

at Avidus
The Avidus Campus is vibrant and full of life. With students from different parts of the country and overseas, the atmosphere is cosmopolitan. The beautifully designed campus is an oasis of learning where you can soak in knowledge, make wonderful friends for life and pave the way for a successful career. The well-balanced mix of academics, industry exposure and extra-curriculars makes us rank among the best MBA colleges in Chennai. There are many different clubs instituted at the campus, therefore you get so much value added to your business management course
Enviro Club
Caring for our environment is the need of the hour. This club is very active and promotes healthy green practices among students through series of initiatives. They are trained to understand and stay aware of factors impacting our environment and reducing their waste, waste management and reducing their carbon footprint. They also get the opportunity to interact with environmentalists, film makers and activists.
Technocrat Club
The aim of this club is to train and equip students in Technology driven programs which will help them in their future. It gives them expertise on various domains like web development, designing, animation, illustration and social media marketing. This is something that very few management programs offer and students can take advantage of this.
Digital Marketing Club
The Digital Marketing Club is designed to keep students updated with the latest Digital Marketing Tools which are essential to build a strong brand. This is an asset in today's world that is getting more and more technology-oriented. This is one of the reasons that we stay top MBA colleges in Chennai.
Budding Biz Club
Business management is not just about working for an organisation, the training is also aimed at making entrepreneurs who will be wealth creators in their own right. This club focuses on lighting the entrepreneurship spirit through various seed event and entrepreneur development programs.
Future Work Wizards Club
Being industry ready is very important, this club gives students a glimpse of the real world of corporates and organisations where they will ultimately work. They are trained to take on the challenges through technical training programs and functional coaching on various skills. This builds their confidence during campus interviews and when they step into their careers.
Recreation Club
The Recreation Club helps expand horizons and bring new perspectives to life. It conducts lot of fun events that are engaging and refresh the mind and body filling them with renewed energy. This helps students maintain the study-life balance and lead a fulfilling life.
Travel
broadens the mind!
Students are taken on trips across India and overseas to countries such as Paris, Belgium, Dubai, Singapore and Malaysia. They also visit institutions that teach business management and corporates there. They share a lot of camaraderie, gain a lot of knowledge and build wonderful memories for life.
Industrial

Visits

AAM believes that industrial visits are the best way to bridge the gap between theoretical and practical world. These form an active learning experience and provide insight into the real business management methodologies of companies. Students also get to interact and learn from industry experts. They observe and learn new management concepts and improves job prospects. This is one of the reasons that we are ahead of the business schools in Chennai.
Conferences
Conferences are great places to network and besides bringing students good exposure, they also open up new opportunities and ideas. Not all MBA colleges in Chennai offer such facilities. Students get to meet business management peers and there is a wonderful exchange of ideas and new ones are generated. These are also platforms where managers, educators, researchers, and practitioners share their views on recent and upcoming trends, industry landscape, innovation, challenges and so much more. Not only are these great avenues to improve your knowledge, they also help you grow into a well-rounded manager who has confidence and knowledge.
Events
Events at AAM are well-planned and orchestrated. Conferences, Workshops, Club Meetings, Convocation, Internal Programs, and so much more. These are crafted with an aim to enrich campus life and they also help to build wonderful bridges with the industry. They are a time when students can network with peers and other professionals from the industry. We actively encourage our business management students to take part in these.